Bradleys Motors Events & Training
Classes for February 4th & 5th, 2019
---
Organizing Your Company to Benefit from Evidence-based Product Support (EbS)


Monday, February 4, 2019 Time: 9:00 - 11:30am Open to LEMUG Conference Attendees Only (Shop Tour departs at 1:00pm)
Tuesday, February 5, 2019 8:30am – 11:30am Open to all who create, manage, or execute policies, processes, or work instructions that drive organizational change.

Fee: FREE

Instructor: William B. Winkel, B.S. Electrical Engineering, M.S., Reliability Engineering
Mr. Winkel has a Bachelor's degree in Electrical Engineering, a Master's degree in Reliability Engineering, and has completed all but his dissertation towards a PhD in Reliability Engineering. His work continues with the topic of Evidence-based Product and Process Improvement.
more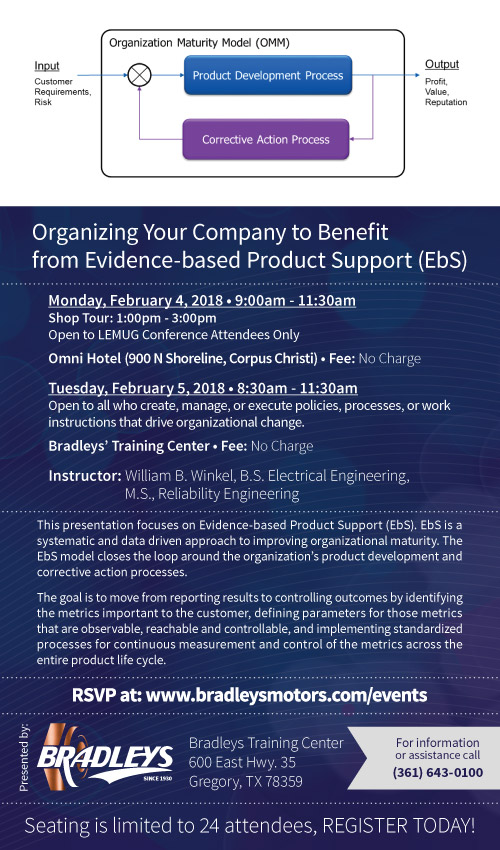 This two and a half hour presentation focuses on evidence-based Production Support (EbS). EbS is a systematic and data driven approach to improving organizational maturity. the EbS model closes the loop around the organization's product development and corrective action processes.

The goal is to move from reporting results to controlling outcomes by identifying the metrics important to the customer, defining parameters for those metrics that are observable, reachable and controllable, and implementing standardized processes for continuous measurement and control of the metrics across the entire product life cycle.
Monday, February 4, 2019 9:00am - 11:30am Open to LEMUG Conference Attendees Only (Shop Tour departs at 1:00pm)
Signup HERE
Tuesday, February 5, 2019 8:30am – 11:30am Open to all who create, manage, or execute policies, processes, or work instructions that drive organizational change.
Signup HERE
---
Bradleys Motors has also arranged for special corporate discount rates at popular local lodgings. Hotel Corporate rates can be used for visiting customers, trainers, employee personal stay and all other reservations.

Omni Hotel, Corporate ID, 45192499756 ($145)
900 North Shoreline Blvd., Corpus Christi, 78401
1-800-843-6664

Holiday Inn, Corporate ID, 1003145880 (Price will vary depending on date)
707 North Shoreline Blvd., Corpus Christi, 78401
1-877-834-3613

La Quinta Inn, Member ID, W3816373 (Price will vary depending on date)
ANY LOCATION
1-800-738-8767

Each hotel has its own unique Corporate ID Rate Number that will also be displayed in the class description during registration. Make note of this Corporate ID Number and contact your preferred hotel directly to make reservations, ask questions concerning the hotel or other such lodging needs.